Stopping Termites From Eating Away At Your Monmouth County Home
If there's one type of pest infestation that's a silent killer for your home, it's a termite infestation. Termites burrow deep into your property and eat away at the wood and other materials over time. Given a large enough colony and enough time, this can quickly lead to huge problems for everyone on the premises.
While it seems like an easy thing to detect termites, the truth is, they often go undetected for years, which is why they're such a concern for property owners in the Monmouth County, NJ, area. Of the many species of termite, subterranean termites are the most common type of termite you'll come across.
The Dangers Of Termite Damage
The main source of trouble termites cause is property damage, which comes in two forms for property owners. The first type is structural damage, which happens as the termite eats away at the wood that makes up the building's structure.
The other type of damage is cosmetic damage and involves materials like paint, sheetrock, flooring, and other materials being consumed. Regardless of the type of property damage, the end result is costly repairs you don't want to have to deal with. That's why professional termite control is crucial to the long-term health of your building.
Our Termite Control Process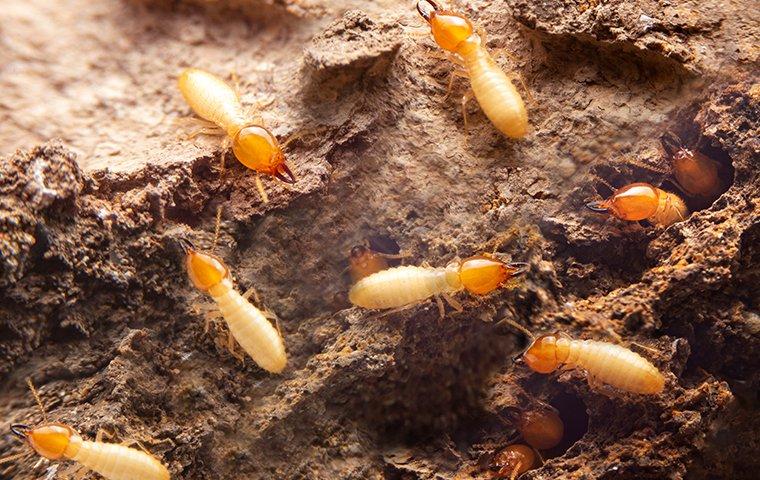 At Pride Pest Service, we understand the dangers termites cause to your building. That's why we work quickly to get ahead of the problem when you suspect a termite infestation.
To ensure we're as effective as possible, we always begin with a termite inspection. During the inspection, we look for signs of a termite infestation as well as other pests like carpenter ants that may be contributing to your problem.
Once we've determined you have termites, we get to work on treating your property. For treatment, we use Termidor® and conventional treatments. Depending on the structure of your house and the exterior property, our technicians will trench and treat the soil around the house.
If you have pavement or pavers nearby, we'll either remove them to treat, or we will drill tiny holes into them to fill with Termidor. Once we're done, we patch all of these tiny holes up and make it look like we were never there.
After the initial treatment, we give you a one-year guarantee. Based on the cost of the treatment, we will issue you a renewal every year after which we will inspect the house once a year. If there is a new infestation, we will re-treat at no additional cost to you.
Signs Of A Termite Infestation
Termite infestations are much harder to detect and control once they've established residence on your property. The key is to preventively identify them before they've done significant damage. To do that, you need to know the common signs of a termite infestation, which includes but aren't limited to:
Hollow wood

Blistered wood

Mud tubes

Frass (termite excrement that resembles sawdust)

Wings left behind
Termite Control To Protect Your Monmouth County Home Year-Round
If you suspect a termite infestation on your property, don't wait to contact our technicians at Pride Pest Service. We'll deliver the quality service you need to get the results you desire, and most importantly, a termite-free property.
Learn more about our home pest control and commercial pest control solutions.
Request Your Free Inspection
Complete the form below to schedule your no obligation inspection.