Eliminate Bed Bugs From Your Monmouth County Home
At one point, bed bugs were thought to be a pest of the past, but with more secondhand furniture being purchased and more frequent traveling, this troublesome pest has made a comeback that nobody wanted to see.
At Pride Pest Service, our technicians are determined to keep your Monmouth County property free of bed bugs. Unlike some other pests, bed bugs can't be eliminated with do-it-yourself methods, which is why professional bed bug control is a must in the face of an active infestation.
The Life Cycle Of Bed Bugs
Doing your part in fighting a bed bug infestation requires understanding the life cycle of bed bugs. These pests are nocturnal, reddish-brown, and greatly resemble an apple seed.
They also dine on the blood of humans and other warm-blooded animals. In fact, this habit of theirs is usually how you find out there's an infestation in the first place.
Bed bugs have three main stages in their life cycle. First, their life begins as an egg that's grain-like and milky white in color. During an infestation, it's possible that 1-5 eggs can be laid in a single day per bed bug. A single female bed bug can lay as many as 500 eggs in its lifetime. These eggs are laid on their own or in clusters within tight cracks and crevices.
The next stage of their life cycle is the nymph stage. At this point, they've hatched and go through five molting periods before reaching maturity. Nymphs look similar to the adults but are yellow-white in color. Molting stages are completed with a blood meal. At room temperature, it's expected that nymphs will become adults within five weeks of hatching.

Once bed bugs have matured, they make weekly feedings. The average life span of this pest is between 4-6 months. With that being said, bed bugs can live up to a year in cool conditions with no food.
Our Bed Bug Control Process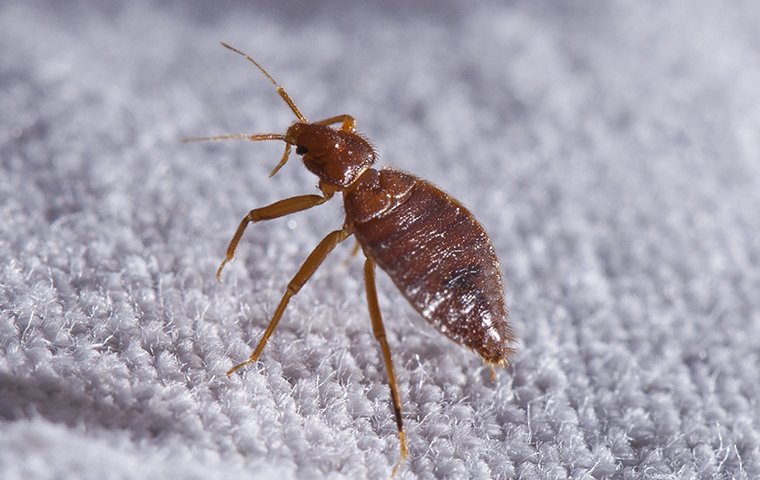 Nothing short of professional services will fully eliminate your bed bug problem. Our technicians have honed their process to perfection and work with you to identify and resolve your bed bug problem quickly and effectively.
Like with any pest, our first step is to perform an inspection. During the inspection, we inspect every crack and crevice within the house. We will inspect the bed, the baseboards, the end tables, and all other furniture in the room to figure out where the infestation is originating.
Once we've completed the inspection, our technicians come up with a plan of action to treat your house properly. We take your concerns seriously, which is why every room we treat comes with our guarantee.
For treatment, we chemically treat the infested area. We believe that the key to treat for bed bugs is treating the females. Since they reproduce so quickly and so often, we treat them with growth regulators. This keeps them from laying eggs and will also prevent the nymph bed bugs from reaching maturity.
For your convenience, we offer both room-by-room and whole house treatments. For an additional cost, we'll also provide mattress encasements. In general, we'll follow up with you seven to ten days after the initial treatment. Our treatment is entirely guaranteed and we provide re-treatments for free if bed bugs have returned.
Prevent Future Bed Bug Infestations In Monmouth County With Pride Pest Service
With bed bugs, it's all about preventing them in the first place. To do that, it's important to follow our handy prevention tips, which include:
Avoid public storage.

When traveling, inspect the underside of the mattress, the corners of the room, and where the carpet meets the wall. If you see signs of bed bugs, request to be moved to another room.

Double-check all used furniture before bringing it home.

Inspect visitor luggage.

Watch for the signs of an infestation.
If you need bed bug control services, then contact our technicians at Pride Pest Service to explore your bedbug control options. We guarantee we'll get your property back to bed bug-free.
Learn more about our home pest control and commercial pest control solutions.
Request Your Free Inspection
Complete the form below to schedule your no obligation inspection.